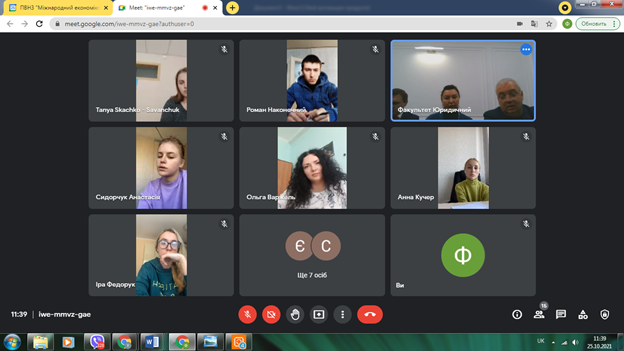 On October 25, 2021, Doctor of Sciences, Professor of the Depatment of Criminal Law and Administrative Law Disciplines, Deputy Chairman of the Higher Qualification-disciplinary commission of advocacy, Chairman of the Advocacy Association "Krupnova and Partners", lawyer Krupnova Liubov Vasylivna held a guest lecture with the participation of lawyers of the Council of Kyiv Senin Vadym Yuriiovych and Dihtiar Oleh Valeriiovych on the topic: "Peculiarities of lawyer-client interaction" for applicants for the second (master) level of higher education EP "Law" during the study of the discipline "Actual problems of advocacy".
The guests of the lecture spoke about the importance of communication between a lawyer and a client and building a relationship of trust. Lawyers also noted that today the effectiveness and success of advocacy depends not only on the professional knowledge, skills and abilities of a lawyer, but also on his personal, communicative qualities and abilities. In addition, the guests shared tips on the need for practical application of the Rules of Advocacy and the importance of emotional intelligence in the work of a lawyer.
The lecture took place in a creative and friendly atmosphere. Students had the opportunity to get answers to all questions about the interaction of lawyers and clients, advocacy in general.